Analisis Faktor-Faktor yang Mempengaruhi Produktivitas Tenaga Kerja Tukang Besi pada PT. Wika Beton Pabrik Produk Beton Pasuruan
Muhammad Nizar

Universitas Yudharta Pasuruan
Abstract
Lack of attention to the productivity of workers on a construction project could hinder the construction works. There are various factors that can affect productivity in construction projects, one of which is the labor factor directly related to the construction field. The purpose of this research is to analyze the influence of education, motivation, age, work experience, wages and supervision of employee productivity, and determine the most dominant factor on employee productivity.
Data analysis method used is the method of questionnaires and recording data every day. Processing of research data using methods Correlation and Linear Regression and equalization. And the data processing obtained significant results, wherein the average productivity in the field of 27.1 kg / day and test results Correlation and Regression rnenunjukkan 6 variables that affect the productivity is the level of education, motivation, age, work experience, salary or wages and supervision. Where is the education level of 0.545 units berpengaruli on productivity, motivation amounted to 0.194 units on the productivity, age amounted to 2,176 units on productivity, work experience amounting to 0.577 units to productivity, salary / wage of 1,214 units on productivity and oversight of 2,047 units on productivity. Age is the most dominant factor on labor of vulcan productivity at PT. WIKA Pabnik Concrete Products Factory Pasuruan.
Downloads
Download data is not yet available.
References
Ahmadi, Djauzak, Peningkatan Mutu Pendidikan Sebagai Sarana Pembangunan Bangsa, Jakarta: Balai Pustk, 1994.
Boedi, Abdullah dan Saebani Beni, Ahmad, Metode Penelitian Ekonomi Islam, Bandung: CV Pustaka Setia, 2014.
Ghazali, Imam, Aplikasi Analisis Multivariate dengan Program SPSS, Semarang: Badan penerbit UNDIP, 2006.
Heizer, Jay. Render, Barry, Manajemen Operasi, Jakarta: Salemba Empat, 2006.
I Ervianto, Wulfram, Manajemen Proyek Konstruksi, Yogyakarta: Andi, 2005.
Ibnu Daud al-Muzjaji al-Asy'ari, Ahmad, Muqaddimah al Idarah al Islamiyyah, Jeddah: Tp, 2000.
Ibrahim Abu Shinn, Ahmad. Manajemen Syariah Sebuah Kajian Historis dan Kontenporer, Jakarta: Raja Grafindo Persada, 2006.
Manullang, Dasar-Dasar Manajemen, Jakarta: Galia Indonesia, 1981.
Muchdarsyah, Sinunggan, Produktifitas Apa dan Bagaimana, Jakarta: Galia Indonesia, 1981.
Simamora, Henry, Manajemen Sumber Daya Manusia, Yogyakarta: YKPN, 2001.
Soeharto, Iman, Manajemen Proyek, Jakarta: Erlangga, 1995.
Sugiyono, Metode Penelitian Bisnis, Bandung: Alfabeta. 2010.
Sugiyono, Metode Penelitian Kuantitatif, Kualitatif dan R&D, Bandung: Alfabeta, 2012.
Syukur, Metode Penelitian dan Penvajian data Pendidikan, Semarang: Medya Wiyata, 2001.
Wibowo dan Prasetyo, Analisa Produktivitas Pekerja dengan Metode Work Sampling: Studi Kasus Pada Proyek X Dan Y, Vol. 6, No. 2, Jakarta: Civil Engineering Dimension, tt.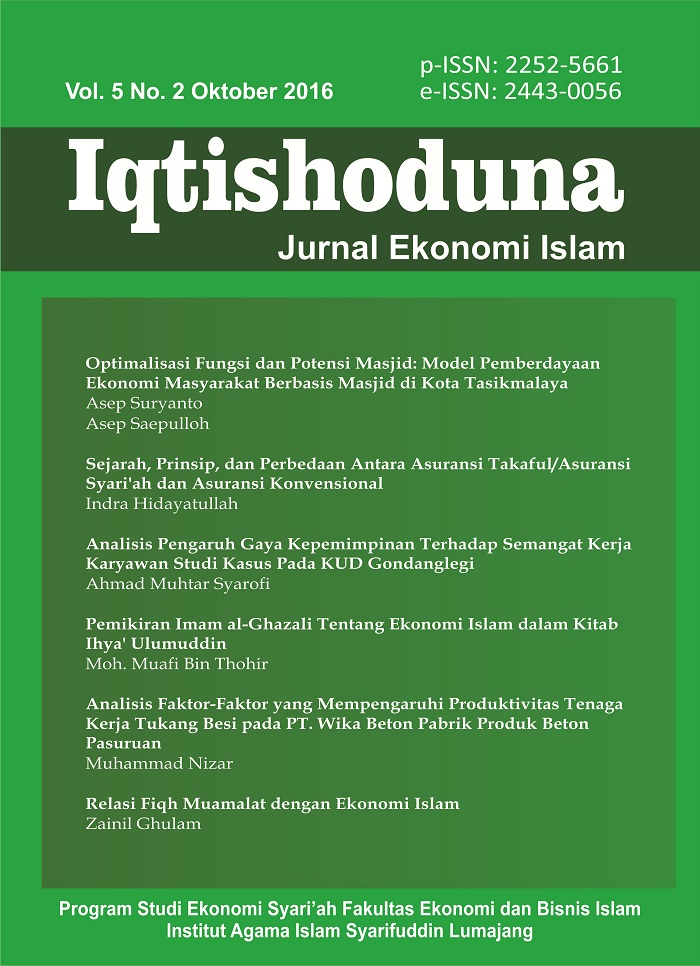 Keywords
Productivity, level of education, motivation, age, work experience, salary/wages, and supervision
The journal can be accessed publicly, which means that all content is provided freely accessible without charge to either the user or the institution. Users are allowed to read, download, copy, distribute, print, search, or cite to the full text of the article did not have to ask permission from the publisher or author.