Analisis Pengaruh Gaya Kepemimpinan Terhadap Semangat Kerja Karyawan Studi Kasus pada KUD Gondanglegi
Ahmad Muhtar Syarofi

Institut Agama Islam Al-Qolam Gondanglegi Malang
Abstract
This watchfulness aims that is first, to detect leadership style at KUD Gondanglegi Malang. For company this watchfulness can give input and deliberation for KUD Gondanglegi management side, respective with decision making in employee management, so that created tall work spirit. Analyzer that used in this watchfulness that is by using scale distence analysis and simple linear regression.
Watchfulness result conclusion that is style leadership exist in stone KUD Gondanglegi belongs in laissez faire leadership style. Employee work spirit exist in KUD Gondanglegi Malang enters in tall category. Test result knowable that influential leadership style significant towards employee work spirit. The mentioned provable with value t count > t table.
Downloads
Download data is not yet available.
References
Arifin, Rais, Amirullah, Siti Fauziah. 2003. Perilaku Organisasi. Bayu Media. Malang
Arikunto, Suharsimi. 2006. Prosedur Penelitian Suatu Pendekatan Praktik. Rineka Cipta. Jakarta
Djatmiko, Yayat Hayati. 2002. Perilaku Organisasi. Cetakan Ke Satu. Alfabet
Heidjrachman dan Husnan. 1990. Manajemen Personalia. BPFE. Universitas Gajah Mada. Yogyakarta
Kartono. 1985. Psikologi Sosial untuk Manajemen, Perusahaan dan Industri. CV Rajawali. Jakarta
Kossen, Stan. 1986. Aspek Manusia dalam Organisasi. Erlangga. Jakarta
Mohyi, Ach. 2005. Teori dan Perilaku Organisasi. UMM Press. Malang
Nawawi, hadari. 1997. Kepemimpinan yang Efektif. Gajah Mada University Press
Nitisemito, Alex S. 1996. Manajemen Personalia. PT Ghalia Indonesia. Jakarta
Rivai, Veithzal. 2003. Kepemimpinan dan Perilaku Organisasi. PT Raja Grafindo Persada. Jakarta
Robbins, Stephen. 1996. Perilaku Organisasi. PT Prenhallindo. Jakarta
Samsudin, Sadili. 2006. Manajemen Sumber Daya Manusia. Pustaka Setia. Bandung
Sujak, Abi. 1990. Kepemimpinan Manajer. CV Rajawali. Jakarta
Sugiyono. 2008. Metode Penelitian Bisnis. CV Alfabeta. Bandung
Thoha, Miftah. 2003. Perilaku Organisasi, Konsep dan Aplikasinya. PT Raja Grafindo Persada. Jakarta
Thoha, Miftah. 1995. Kepemimpinan dalam Manajemen. PT Raja Grafindo Persada. Jakarta
Umar, Husein. 2001. Riset Sumber Daya Manusia dalam Organisasi. PT Gramedia Pustaka Utama. Jakarta
Widayat dan Amirullah. 2002. Riset Bisnis. UMM Press. Malang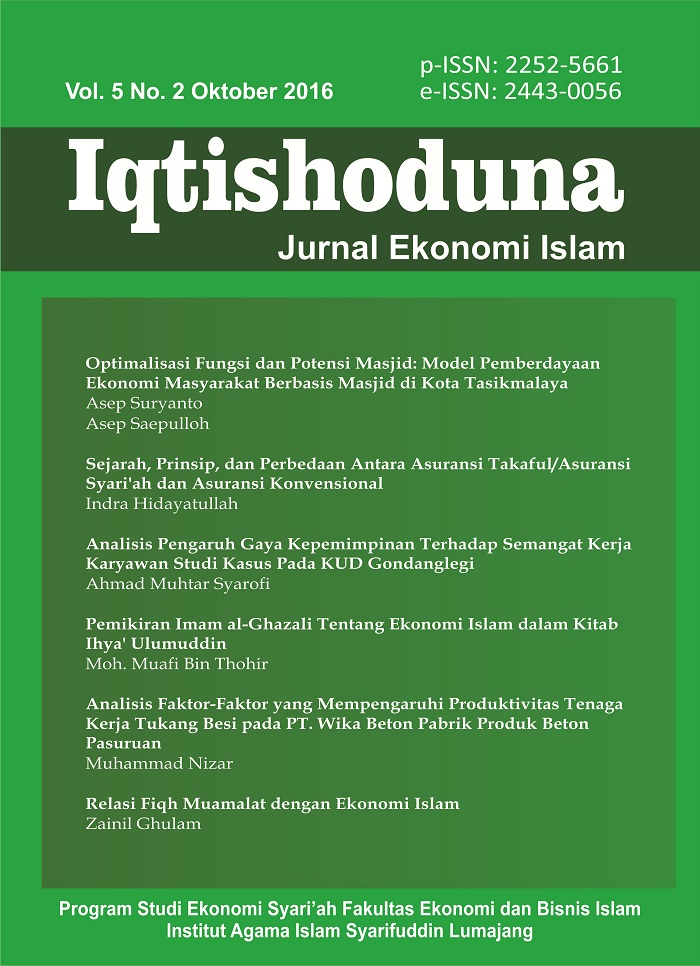 Keywords
Influence;Leadership Style;Morale;Employee
The journal can be accessed publicly, which means that all content is provided freely accessible without charge to either the user or the institution. Users are allowed to read, download, copy, distribute, print, search, or cite to the full text of the article did not have to ask permission from the publisher or author.