Relasi Fiqh Muamalat dengan Ekonomi Islam
Keywords:
Fiqh Muamalat relations, Islamic economics
Abstract
Association of human society, will lead to personal interests for the sake of self-sufficient. From this will be born the rights and obligations that must be observed as a result of the fulfillment of human life necessities. Every human being bears the rights and obligations of each. Therefore, the association's rights and obligations should be regulated in accordance with the law and order that is clearly not harm each other. For example, every human being must be in need of property or the property of others. To meet these needs, the emerging practice of barter (exchange of goods), then buying and selling directly and are now developing more advanced such as e-commerce. Practices such as these need standards clear law to protect the rights and obligations of each. From here, the Muslim scholars to formulate diligence "rules of the game" are clear and properly conforming the Islamic Sharia, known as Fiqh Muamalat. In Islam, the fundamental philosophy of Islamic Economics is unity of god (Sura 39:38). The concept of monotheism confirms that Allah is the One mighty One, the creator of all beings. Human beings as creatures are derived from the same creation and discount equal rights and obligations as a vicegerent on earth. Thus, in Islamic Economics unknown economic strata, because the principle is the equitable distribution of economic resources for the benefit of human life and the universe. Humans as economic beings (homo economicus) will certainly study the economy as part of his behavior to meet their needs in accordance with the principles prisnip human interaction. Therefore, the pattern of interaction between people (read: Muamalat) in economic practice (Islam), it can be concluded that the real Islamic economic is part of the Fiqh Muamalat.
Downloads
Download data is not yet available.
References
Aceh, Abu Bakar, Ilmu Fiqih Islam dalam Lima Madzhab, (Jakarta: Islamic Research Institute, 1997.
Ahmad Muhammad al-Sayid dan Yusuf 'Ali Badiwi, al-Mufid fi al-Ibadat wa al-Mu'amalat, Beirut: Dar Ibn Kasir, 1998.
Ahmad, Abi al-Husan, Mu'jam Maqayis al-Lughah, Juz IV, Beirut: Dar al-Fikr, 1979
al-Zuhaili, Wahbah, al-Fiqh al-Islami wa Adillatuhu, Juz I, Beirut: Dar al-Fikr, 2008.
Chapra, Umer, What Is Islamic Economics, Saudi Arabia: Islamic Research and Training Institute, 1996.
Djuwaini, Dimyauddin, Pengantar Fiqh Muamalah, Yogyakarta: Pustaka Pelajar, 2010.
Hasan, Ahmad, Pintu Ijtihad Tertutp, Bandung: slaman, 1994.
Hazanuzzaman, Definition of Islamic Economics dalam Journal Of Research in Islamic Economics, Vol. 1 No. 2, 1984.
Husain, Dr. Al-Saih Ali, al-Fiqh al-Islamiy; al-Iqtishad wa al-Mu'amalat al-Maliyah, Tripoli-Libya: Kulliyat a-Da'wah al-Islamiyah, 2003.
Isma'il, Sya'ban Muhammad, al-Tasyri' al-Islamiy Mashadiruhu wa Athwaruhu, Kairo: al-Nahdah al-Misriyah, 1985
Ismail, Nurizal, Maqashid Syari'a dalam Ekonomi Islam, Yogyakarta: Smart WR, 2014.
Khallaf, Abdul Wahab, Ilmu Ushul al-Fiqh, Jakarta: al-Majlis al-'A'la al-Indunisi, 1972.
Khan, M. Akram, Islamic Economics: Nature and Needs, J. Res, Islamic Econ, Vol. 1, No.2, 1404/1984.
Manan, Muhammad Abdul, Islamic Economics: Theori and Practice (A Comperative Study), Delhi: Idarah Adabiyah, 1970.
Praja , Juhaya S., Filsafat Hukum Islam, Bandung: Pusat Penerbitan Universitas LPPM, Universitas Islam Bandung, 1995.
Rozalinda, Dr., M.Ag., Ekonomi Islam; Teori dan Aplikasinya pada Aktivitas Ekonomi, Jakarta: PT. Raja Grafindo Persada, 2015.
Shihab, Umar, al-Qur'an dan Kekenyalan Hukum, Semarang: Dina Utama, 1993.
Sirry, Mun'im, Sejarah Fiqh Islam (Sebuah Pengantar), Surabaya: Risalah Gusti, 1995.
Suhendi, Dr. H. Hendi, M.Si. Fiqh Muamalah, Jakarta: Rajawali Press, 2014.
Supriyadi, Dedi, M.Ag., Sejarah Hukum Islam, Dari Kawasan Jazirah Arab sampai Indonesia, Bandung: CV. Pustaka Setia, 2007.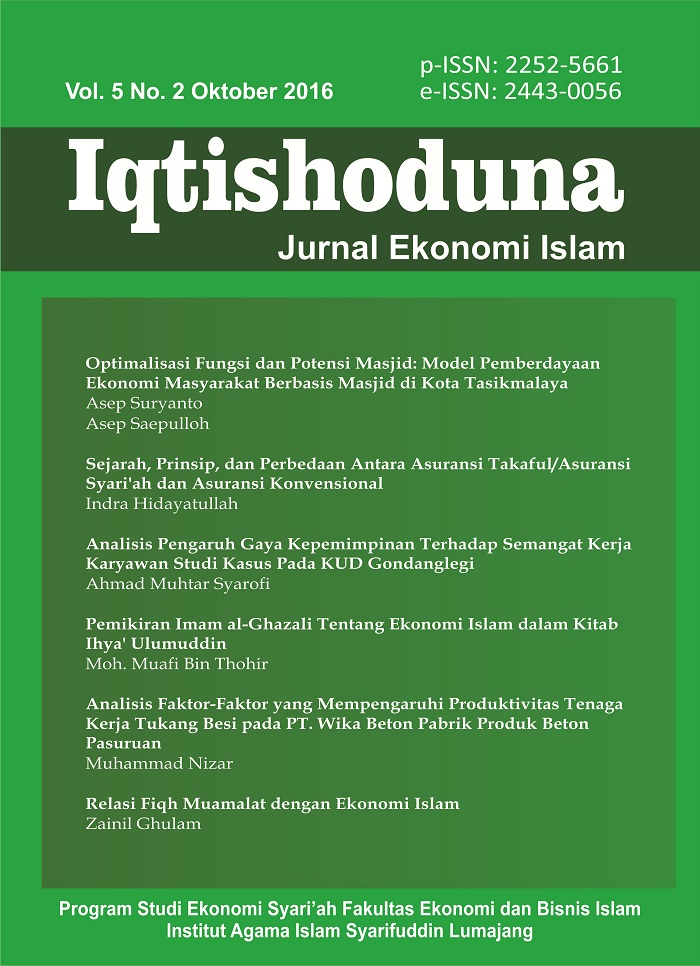 Downloads
How to Cite
Ghulam, Zainil. "Relasi Fiqh Muamalat Dengan Ekonomi Islam". IQTISHODUNA: Jurnal Ekonomi Islam 5, no. 2 (October 30, 2016): 277–297. Accessed June 11, 2023. https://ejournal.iaisyarifuddin.ac.id/index.php/iqtishoduna/article/view/156.
License
Copyright (c) 2016 Zainil Ghulam
This work is licensed under a Creative Commons Attribution 4.0 International License.
The journal can be accessed publicly, which means that all content is provided freely accessible without charge to either the user or the institution. Users are allowed to read, download, copy, distribute, print, search, or cite to the full text of the article did not have to ask permission from the publisher or author.