Pemikiran Imam Al-Ghazali Tentang Ekonomi Islam dalam Kitab Ihya' Ulumuddin
Moh. Muafi Bin Thohir

Institut Agama Islam Syarifuddin Lumajang
Abstract
This article focuses on the concept of al-Ghazali economic thought in Ihya 'Ulumuddin. The main reason for choosing the economic concept of al-Ghazali was due to its own peculiarities points compared with other thinkers. In the grand concept of the economy, al-Ghazali is focused on the behavior of individuals in the perspective of the Qur'an, al-Sunnah, the Prophet Muhammad's fatwa, friends and officers from his friends as well as such prominent Sufi Junaid al-Baghdadi, Zun al-Misri, and Haris bin Asad al-Muhammad Sibi. This article also discusses how exactly the economic concept of al-Ghazali? The conclusion that the concept of economic thought Al-Ghazali is based on the approach of Sufism. Thought Imam al-Ghazali in economics tends moral ethics. 1. Among the voluntary exchange and the evolution of the market, which include; a. Demand, supply, prices and profits b. Ethics basic behavior. 2. The production of goods, which include; a. Production of basic goods as a social obligation. b. Hierarchy production c. Stages of production, specialization, and linkages. 3. Barter and Evolution of the goods, which include; a. Problema Barter and demand for money b. Money that is not useful and stockpiling contrary to divine law. c. Counterfeiting and declining value of money d. Riba. 4. Role of the State and Public Finance, which includes; a. Economic progress through justice, peace, and stability. b. Public finances (source countries, public debt and public spending). Muslim economists have more contributions to the economic development not only in the Islamic environment, but also conventional economics. With a discussion of the economic thinking of the Muslim thinkers, hoping that the Islamic economic discourse among academics become more alive. In addition, the economic nuances of Islam in Indonesia can further grow and comprehensively by operating the Islamic financial institutions in Indonesia.
Downloads
Download data is not yet available.
References
Hakim, Lukman. 2012. Prinsip-prinsip Ekonomi Islam. Surakarta: PT. Gelora Aksara Pratama.
__________. 2006. Sejarah Pemikiran Ekonomi Islam. Jakarta: PT. Raja Grafindo Persada.
Http://Blog.Umy.Ac.Id/Opissen/2012/12/23/Aktifitas-Produksi/, diakses pada tanggal 1 September 2016, jam 16.00 wib
Izzan, Ahmad dan Syahri Tanjung. 2006. Referensi Ekonomi Syariah. Jakarta: PT. Remaja Rosdakarya.
Karim, Adiwarman Azwar. 2012. Ekonomi Mikro Islami. Jakarta: PT. Raja Grafindo Persada.
M. Al-Ghazali, Syaikh. 2012. Al-Ghazali Menjawab 100 Soal Keislaman. Jakarta: Lentera Hati.
P3EI. 2008. Ekonomi Islam. Jakarta: PT. RajaGrafindo Persada.
Sudarsono, Heri. 2007. Konsep Ekonomi Islam. Yogyakarta: Ekonisia.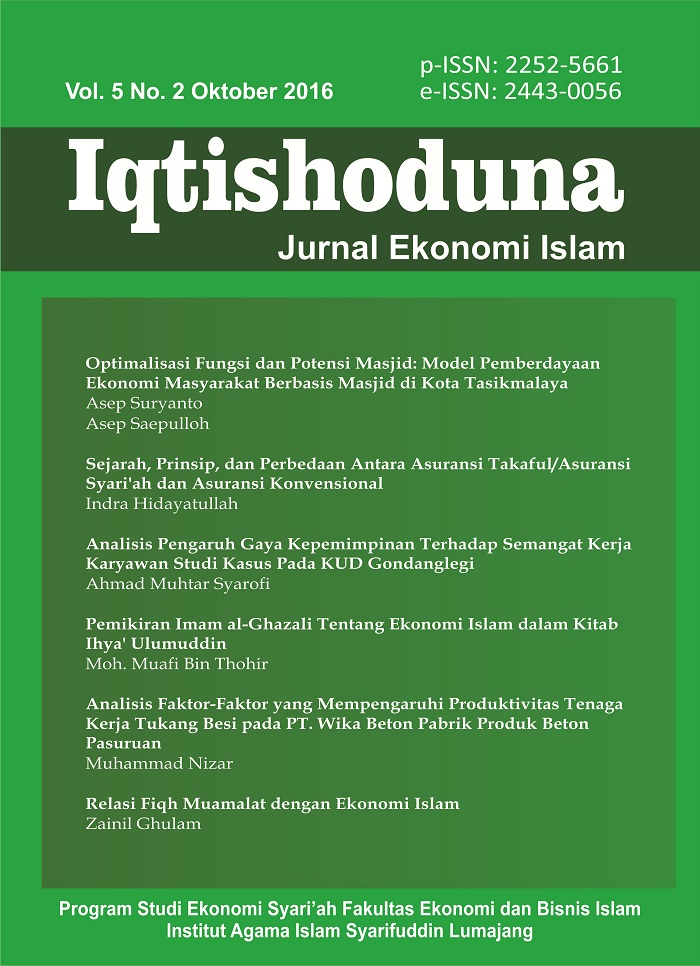 Keywords
Imam al-Ghozali Thought, Islamic Economics
The journal can be accessed publicly, which means that all content is provided freely accessible without charge to either the user or the institution. Users are allowed to read, download, copy, distribute, print, search, or cite to the full text of the article did not have to ask permission from the publisher or author.